Different approaches towards smart mobility
Smart mobility is part of the smart city discourse. This latter concept has evolved rapidly over the last decades into a key pillar or strategy in many policies. However, the rise in popularity of the concept has been accompanied by an increase of discussion and debate about it. Both academics and planners indicate smart cities, just like sustainability, as a buzzword. Haarstad (2017) calls these kinds of concepts 'empty signifiers'. Such concepts leave room for different interpretations, hence there are many of them. Albino et al. (2015) describe the emergence of the smart city concept, that was first used in the 1990s. They explain that the focus in the first years was on the importance of new ICT for modern infrastructures in cities. As explained in the introduction chapter, this strong orientation towards technology was the most common approach these days. The belief in smart cities was (and in many cases still is) based on the persuasion that diffusion of ICT throughout cities can stimulate economic growth, by increasing efficiency and thereby competitiveness of urban systems (Caragliu et al., 2011).

Hollands (2008) also emphasises that ICT plays a key role in smart cities, but points out that there are many different meanings related to the smart city concept. One meaning could be, for example, "the application of a wide range of electronic and digital applications to communities and cities". Another definition could regard smart cities "as spatial territories that bring ICTs and people together to enhance innovation, learning, knowledge and problem solving" (Hollands, 2008, p. 305). The many different definitions that are present, can be explained by the presence of multiple perspectives towards smart cities. The next section will elaborate on these different approaches.

When comparing the two definitions of a smart city given by Hollands, one could draw up different visions about what people actually see as a smart city. The latter definition, "spatial territories that bring ICTs and people together to enhance innovation, learning, knowledge and problem solving", fits better in the notion of critics who thought that the concept of smart cities was too much technology-oriented. Such critics, for example Albino et al. (2015), state that the component of 'people' and/or 'community' is often missing. However, "these are the protagonists of a smart city, who shape it through continuous interactions" (p. 9). In their opinion, a city that focusses on technological improvements only is not a smart city. Therefore, many researchers pleaded for a broader understanding of the smart city concept.

Technological dimension vs. human dimension
According to Caragliu et al. (2011) the role of human capital and education should be stressed in urban development. Nam & Pardo (2011) distinguish, apart from the technology dimension, also a human dimension and an institution dimension. In other words, an approach emerged that, more than technology, highlights the social structures in cities.

The human dimension, as explained by Nam & Pardo (2011), is about smart people. People who "generate and benefit from social capital" (p. 285). For these kind of smart cities (Nam & Pardo indicate the existence of strongly related definitions of creative, humane, learning and knowledge cities) the human infrastructures are of crucial importance for city development, for example the presence of knowledge networks, creative occupations and a diverse mix of enterprises. In essence, this dimension regards a smart city as a city that fully exploits its human potential. The institutional dimension is about smart communities "in which government, business, and residents understand the potential of information technology, and make a conscious decision to use that technology to transform life and work in their region in significant and positive ways" (California Institute for Smart Communities, as quoted in Nam & Pardo, 2011, p. 286). This definition shows that a smart city can also be operationalised as a city that is governed in a 'smart' way, with new governance relations, decision-making, participation and collaboration. The institutional dimension stresses this aspect.

One of the conclusions that Albino et al. (2015) draw from their study is that the confusion about the smart city concept is explicable by the emergence of these different dimensions of smart cities. As they state, the concept has been used to describe developments in two different kinds of domains. The first is that of hard domains, consisting among others of buildings, energy grids, mobility and logistics. The second is that of soft domains, about education, culture, policy innovation and governance. The role and application of ICT in each of these domains is different. In the first types of domains ICT can play a decisive role, while in the latter ones it mostly plays a supportive role rather than being decisive (Albino et al., 2015).

Technology-centric vs. citizen-centric
Another way in which the smart city concept can be regarded differently is explained by Papa & Lauwers (2015). Focussing on urban mobility, they distinguish a technology-centric approach, a consumer-centric approach and a citizen-centric approach. In the broader field of smart cities, especially the differences between the technology- and citizen-centric approach are relevant to review here. The technology-centric approach, "provides a vision of smart mobility as capable of maximizing its efficiency thanks to a large and widespread use of ICT. Such a vision, which has been largely sustained by multinational companies, leaders in the sector of ICT manufacturing, focuses on infrastructural innovation" (p. 545). Two important remarks can be made about this approach. First, it puts ICT central and sees it as independently operating systems offering solutions for (efficiency) problems in urban systems. This matches the explanation of Albino et al. (2015) about hard domains. Second, it pays attention to the governance aspect, stating that in this approach innovation and improvements are provided by multinational companies, which implies that community needs are not per se taken into consideration.

The citizen-centric approach, on the other hand, views technology as only one aspect of a more complex system. It views smart cities as "a system capable of using ICT in an extensive and intelligent way, in order to improve the overall urban performances and, above all, the quality of life of citizens" (2015). For this approach, community needs and citizens' active role in the transition are key elements of smart cities. Hereby it also pays attention to governance, stating that the integration between technological and social innovation should be ensured, by involving communities and creating conditions for learning and innovation. Also, the approach pleads for a focus on the local context.

The distinctions that Papa & Lauwers and Albino et al. describe thus show major similarities. Both distinguish a technology-based approach and a citizen- or community-based approach. Moreover, both distinguish a more corporate, business-driven transition towards smart cities striving for innovation and efficiency and, on the other hand, a governance of smart cities that emphasises bottom-up initiatives and a more collaborative process towards smart cities. It can be concluded that nowadays there is a broad understanding of smart cities and what issues are related to them.
Table 1 – summary of different approaches towards smart mobility as described by Papa & Lauwers

The relation between smart mobility and sustainable mobility
Lyons (2016) presents a very interesting schematic presentation of the possible relations between the concepts smart and sustainable mobility (figure 1). These schematic relations offer possibilities to compare the visions that different cities have regarding smart and sustainable mobility. Also, it can help to assess to what extent certain projects have sustainability as ambition in the end. The meaning of the different diagrams is explained shortly below.
Diagram A depicts a situation in which a good coordination between smart and sustainability is lacking. Governments may develop policies that promote sustainability on the one hand, and on the other hand policies that are in favour of technological development without regarding sustainability issues at all. In some cases, it is possible that there is (accidently) a slight overlap between those policies. The coordination between the components that is lacking in diagram A, is found in diagram B. Lyons (2016, p. 5) advocates that this situation "may, for some, depict an optimal reality in that all that is smart is sustainable and vice-versa". In this scenario, the terminology and the meaning of both concepts have converged.
Figure 1 - Venn diagrams representing the different possible relationships between the smart and sustainable mobility components (Lyons, 2016)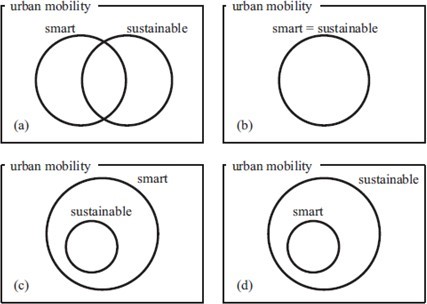 The relation between the components get a more hierarchical character in diagram C and D. Diagram C represents a situation where the smart component prevails over sustainable, which means in practice that developments may become too technology-centric. As Lyons (2016) also states, this can be regarded as a 'dystopian' situation. Diagram D, finally, illustrates the situation in which the sustainable component dominates the smart component. Or in other words, smart is seen as part of sustainable. Technology can then be seen as a means with sustainability as the end. Lyons (2016, p. 5) describes this very stylish as "a stronger level of stewardship over urban futures". Policy makers should be aware of the influence they can have on how this relationship is evolving.
The role of local governments
In the field of smart cities, many researchers emphasise the importance of bottom-up and cooperation. For a transition towards a smart city, the involvement of actors other than governmental is crucial. In general, three main categories of additional actors are being distinguished (Dameri & Benevolo, 2016). The first category consists of citizens, civil society, people, and communities. The second are firms, included those offering specific solutions for smart city implementation, and the third consists of public and private organizations, supplying public services. Collaboration with and between these actors is essential, since it provides access to new knowledge, technologies and markets, improves the process and decreases the cost (Snow, Hakonsson & Obel, 2016).
Clearly visible is a trend towards more appreciation of governance structures in which the role of the government becomes less steering and more collaborative. The Dutch School for Public Administration (NSOB) and the Netherlands Environmental Assessment Agency (PBL) wrote a report in 2014 about the role of the government in temporary society. An innovative vision was introduced here, about the participating government. This perspective entails that public value is created within society. One can think of citizens' initiative, self-organisation or social entrepreneurs. They create their own goals, priorities and coalitions. The role of the government in such structures is less prominent, less obvious. She can participate in certain initiatives, but whether the government is involved is more often a consideration made by the others in the network, than by the government herself. Therefore, the NSOB speaks of a participating government (NSOB, 2014) and 'vermaatschappelijking', socialisation. Stating and producing the public value takes place within society and public authorities leave or share the central position in the publicdomain.
Implementation of smart mobility in The Netherlands
The above discussed theories and visions can be recognised in current planning practices. In this section, some examples from within The Netherlands will be used to illustrate how the different perspectives on smart mobility affect policymaking- and implementation. The central question addressed here is how local governments influence the contribution of smart mobility initiatives towards a reduction of environmental pollution caused by this mobility.

Smart Solar Charging, Utrecht
The first example is a project in the Dutch city of Utrecht, called Smart Solar Charging. This project offers shared electric cars, powered with locally generated solar energy, for participants in a designated area. The objective is twofold: to generate as much as possible value out of the solar energy and establish a more efficient energy grid is the first, and to provide people with emission-free mobility whenever they need it is the second. As this paper is about mobility, the focus is on the latter objective.

It started in the neighbourhood Lombok around ten years ago, when an entrepreneur that offered local internet services, decided to generate his required energy in a sustainable way. Therefore he placed solar panels on the roof of multiple buildings, also on schools that wanted to cooperate. He realised that he needed a buffer to store the excessive energy when there was sun, to be able to use this when there was no sun. Therefore a charging system was placed in his garden and later, another one was placed next to the public road. Then, the idea emerged to attach shared cars to the system. He cooperated with Renault, that developed the Renault Zoë with vehicle-to-grid technology. Inhabitants that were interested to use the electric shared cars could subscribe and use a mobile application to reserve and manage their booking. Charging stations were placed at different locations within the neighbourhood. Together with this, one or two parking places were reserved for the vehicles. Inhabitants could not only use the service, but also cooperate in the project by placing solar panels on their roofs and thereby contributing to the energy supply.

This is realised in the project 'Smart Grid: rendement voor iedereen', which means 'profit for everybody'. Then, the number of users slowly increased and other parties got involved, such as the Utrecht Sustainability Institute (USI). Because the project in Lombok was regarded successful, the interest arose to experiment on a large scale and in different situations. With help of the USI, Smart Solar Charging has expanded towards five pilot locations, which are called 'living labs'. To be able to draw lessons from user experiences, these locations all have their own user characteristics.

Although the role of the local government has not been mentioned up to now, it is worthwhile to discuss the role of the municipality of Utrecht here. When private initiatives such as these arise, a municipality has to decide how to deal with it. In the case of sustainable energy generation and electric (shared) mobility, Utrecht has a progressive attitude. Because of this, she allowed and invested in the placement of charging points in public space in the neighbourhood. The municipality also cooperated in the project by lobbying for funding at the provincial, national and European governmental bodies. Since the civil servants of the municipality of Utrecht understood and believed in the potential benefits of the project, the cooperation was straightforward and full of understanding.

The example of Smart Solar Charging shows that the municipality of Utrecht chooses to not take an active, leading role. Rather, she reacts and supports promising initiatives. She facilitates the project, by providing financial support and by creating space (physically and institutionally) to make it possible to execute the project. The example also illustrates that it is not necessary to take an active role as municipality to make smart mobility initiatives become a success. What is interesting to notice in this case, is that the municipality of Utrecht fits in the vision of a participating government. Society itself creates a value, sets objectives and strives to achieve these. The role of the local government has not been clear on beforehand, but the municipality decides to cooperate and support the project.

Strijp-S, Eindhoven
The second example is the re-development of a former industrial area in Eindhoven, Strijp-S. Because of the history of this area, it is an exemplary location where the innovative and technological character of Eindhoven comes forward. When the area became unused in the first decade of the 21st century, the municipality of Eindhoven and VolkerWessels united themselves with the idea to restructure the area. The mission of this public-private partnership (PPP) was to transform the industrial area in an urban subcentre for residential, working, cultural and commercial use. Anno 2018, the area is a creative city subcentre, with creative enterprises, cultural and educational facilities and modern residential buildings. The PPP, Park Strijp Beheer, has a subdivision called Mobility-S, which is responsible for the mobility and accessibility of the area. This organisation has full responsibility and a high level of autonomy to manage, for example, public parking, development of private parking facilities and investing in and developing innovative mobility systems for the area.

Mobility-S has the ambition to minimise car use in the area, whereby as a consequence less parking places will be needed. This will contribute to the liveability in the area. A number of measures have been taken in the light of the ambitions. First, there is a progressive parking policy. In the case of new building developments, Mobility-S advises how many parking places are needed. They strive to use the already existing parking places in the area very efficiently, by making rest-capacity somewhere else in the area available, or by sharing office parking places with residential parking places and vice versa. Also, there are innovative technologies in use to monitor the available parking places real-time to make it easy to find a spot in case of events and to make it possible to use parking lots of different owners.

Another measure is the stimulation of alternative modes of mobility. There are shared bikes available via the Hopperpoint platform at multiple locations in the area. These can be accessed with an app and handed in at any docking station anywhere in the city of Eindhoven. It improves the connectiveness of Strijp-S with the inner city, for residents, business people and visitors. It is often faster and cheaper than by car, and emission-free. Moreover, Mobility-S works together with a number of shared car providers. At the moment, Greenwheels, FreetoGo and Amber provide cars in the area. Mobility-S facilitates these systems by offering them a parking place. They also promote the systems amongst residents and companies in the area. Besides, they advise companies in the area that want to have their own fleet of shared cars. In the end, Mobility-S contributes to the extension of the network of the shared car services, by offering them a new location. This fits perfectly in their innovative character and in their ambition to reduce car use. Mobility-S is allowed to develop four fewer parking places for every shared car that is provided.
All in all, the total package of new, alternative mobility concepts that Mobility-S provides seems to have objectives that in the end exceed mobility and even accessibility. All measures that are taken in the district, with the application of innovative technologies, are aiming at an improved quality of life and a reduction of emissions. Smart solutions thus, culminating in sustainability. The role of the local government is essential in this, since the objectives are formulated in close cooperation between the municipality and a real estate developer. It indicates an active role of the municipality in which shaping the public value and objective-setting have been led by the local government.